"On Which We Serve: Where Life-Lessons are Learned," by Edward Atkins, is a first-person account of a young sailor's experiences working on the flight deck of a World War II aircraft carrier.
This book also is a memoir in which the activities on the flight deck can be likened to parables that discuss basic principles such as Trustworthiness, and similar values and virtues.
"On Which We Serve: Where Life-Lessons are Learned" is an exciting and informative World War II first-person account of activities on the flight deck of a World War II fleet aircraft carrier. Originally titled "Flight Deck: A Pictorial Essay of a Day in the Life of an Airdale," this two-part book consists of 774 pages with 355 full-page National Archive photographs. Each photo has a caption that seamlessly segues into a half-page discussion of life lessons learned on that flight deck.
MORE Free Downloads: Flight Deck II
| | |
| --- | --- |
| 1946 | 1988 |
These topics are based on First Principles such as responsibility, accountability, respect for others and self, earned self-esteem (those who have such will never do anything antisocial), empathy, trustworthiness, and similar values and virtues. The title also embraces the Navy motto:
Honor (to see one's duty),
Commitment (to do one's duty) and
Courage (to fulfill one's duty).


Safe, Secure Checkout. You'll get an email with a download link after completing the purchase.
The download file for the full book, Parts 1 & 2, is a 45.2MB PDF. Most of the pages of this book are self-contained, meaning it can be usefully read one page per day.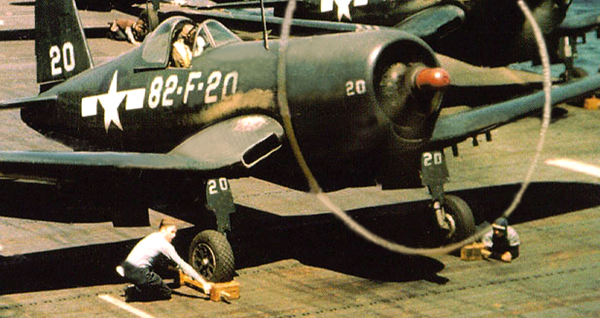 Edward Atkins, the author, kneeling beside an F4U Corsair whose 2,000-hp unmuffled engine is powering a 13-foot propeller (page 389).
The author was transferred to the V-1-F Airdale Division one week before this photo was taken.
He had not yet been issued the standard blue clothe cap, goggles, blue shirt and nonslip flight deck shoes.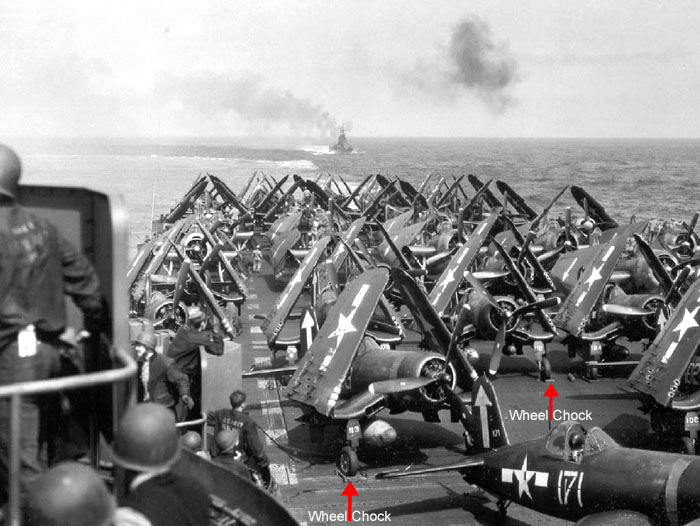 ---
One of the functions an Airdale must perform is removing the wheel chock from an aircraft to allow it to proceed to launch position.
In the accompanying photograph, note the two aircraft directly above aircraft #171.
An Airdale, under his own recognizance, must pull one of those wheel chocks and then accompany the aircraft to its launch position.
This is usually a worst-case condition, especially when there's a wind-blast at his back from the other aircraft. Like anything else, one learns how to do this most expeditiously. It's part of the Airdale's 'job description.'